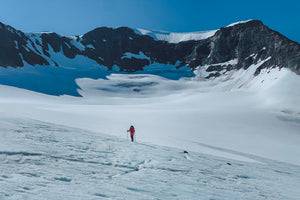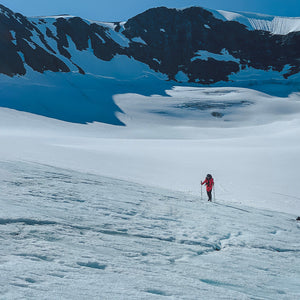 Emma Svensson fell in love with the mountains
"Climbing is almost like meditating. It is you and nature and you cannot think of anything else but where to put your foot"
The love for high altitudes
Climbing the highest peaks
Emma Svensson is the professional fashion photographer who also adds an impressive number of climbed mountains peaks around the world to her resume. She inspires many with her fairly new love for high altitudes, wild sceneries and challenges. This year marks the start of her new adventure: 82 peaks.
– We are going to climb all 4000 meter peaks in the Alps. After having postponed this project because of the pandemic, it is finally time, Emma declares.
Emma does not put a time constraint on this project. She allows time for it.
– We need the right conditions and the right weather for all 82 peaks. And weather cannot be planned for. Temperatures have been above normal the past years which increase the risks of the ascents. The right season for climbing covers just a few months. A realistic plan for all the 82 peaks is three years. We want to have enough time to enjoy it too", Emma explains.
The important preparations
When Emma talks about climbing mountains she describes an amazing experience. It is not just the physical aspect, it is also an emotional journey.
– I am very focused when I climb, which is on the contrary to ordinary city life. I grow as a human being when I climb. I love it. Also, as a photographer I cannot complain about the views, Emma laughs.
When talking about preparations and physical training Emma points out that many people forget about the muscles used when descending the mountain.
– We often think about being strong going uphill. But you need to train the muscles you use going down the mountain. Using poles helps a lot. Poles are also a good aid to keep your balance on very technical trails, when passing over a creek or very rocky surfaces. I always use poles, both when training and climbing mountains, Emma recommends.
She spends much time in her van but also in her Stockholm apartment. Stockholm is at sea level but she finds good training opportunities from hill training in local Hammarbybacken or the treadmill. Low cardio training, running, skiing, cycling, strength training and some climbing are her ways to get fit for high altitude adventures.
– When I'm out there we often spend 10-12 hours on the mountain, so my training sessions need to be lengthy. I climbed Ama Dablam in Nepal a few years ago as a rookie. It made an impact on me and the fact that I was a rookie doing it makes me feel proud, says Emma.
Want to start climbing mountains?
Emma's top 3 tips
1. Plan it and put it in your calender. Then you have something real to train for! I always have my next adventure planned for, it helps me stay motivated and do my training.
2. Stay safe with the right knowledge. There are courses in alpine climbing – sign up for it!
3. Take note of what I said about using your muscles going downhill. Allow yourself enough time for training and preparations.