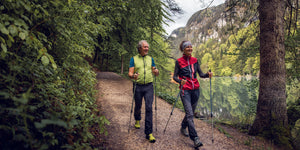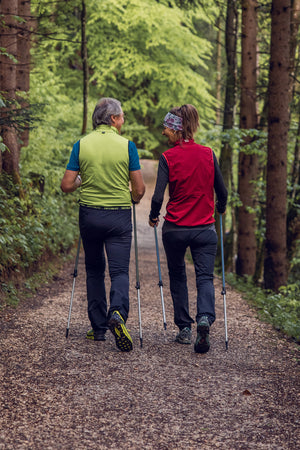 Increase your speed and your fitness
Involve more muscles on your walks
Up to 50% increased metabolism
Ramp up your daily walks with Nordic walking poles from Silva. Walking with poles is a great way to exercise and could increase your metabolism by up to 50%. Poles are the perfect fitness tool and walking with poles is also popular with cross country ski athletes who often use poles in hilly terrain.
Easily adjustable
Silva Walking poles are easy to adjust and the correct length should measure about two thirds of your height. The poles have a Flick lock or Twist lock adjustment depending on which model you choose. All three models can be adjusted between 105-140 cm.
A tight and comfortable grip is important hence these poles come with an adjustable glove similar to a cross country ski pole. The glove enables you to grip and release the pole when you walk.
Available in three models
Silva Nordic walking poles are available in three models. All models have carbide tips and include rubber paws for when you walk on paved surfaces. The paws are shaped for your natural movement which means you can go easy on your body even though you challenge yourself, including your hardest working muscle: your heart.
All models also include snow baskets so that you can use your poles in all seasons regardless if you walk on sand, snow or mud. The model that is made of 7075 aluminum with cork handle have replaceable carbide tips and will be your walking partner regardless the amount of miles. The other two models have rubber handles for a smooth feeling. Choose your model depending on your preferences!