Trail Runner Free Ultra is a comfortable and lightweight headlamp for everyone who loves running. Its features and light beam are optimized for a runner's needs. Trail Runner Free Ultra comes with a rechargeable 4.0 Ah (14.8 Wh) battery as well as the Hybrid battery case.
On this fifth generation of our original running headlamp, we present a new kind of technology where the power cord is integrated into the headband. We call it Free Technology – a comfortable headlamp experience without distracting cords or tangled wires. No hassle – Just free the energy.
Hybrid Battery Case Included
The Hybrid battery case can carry either the rechargeable Silva Hybrid battery pack or 3 x AAA batteries (not included). This means that you have can use AAA batteries as a backup if you run out of power. The case has grip friendly surfaces and holds an integrated red rear safety light – adding extra visibility.
Long Distance Battery Included
In addition to the Hybrid battery case that gives you multiple battery options – Trail Runner Free Ultra comes with a rechargeable, long lasting 4.0 Ah (14.8 Wh) battery pack that sits neatly in a multi attachment soft case. The 4.0 Ah (14.8 Wh) battery is perfect for extended burn time on those longer running sessions. The battery has 4-step battery indication and can be charged anywhere, using the included USB cable.
Customized Light Distribution
The Trail Runner Free series is made for running in every aspect. All three headlamps feature Silva Intelligent Light. This means that you get a double light beam technology in your headlamp, with light settings that are perfect for running. Our unique combination of a long reach spotlight and a close flood-light, results in less head movement, better control, improved balance, less fatigue and higher speed.
Comfort In Every Detail
Despite the focus on technological breakthroughs, we have not forgotten about the importance of weight optimization. Every part of the headlamp has been compressed and the unit only weighs 55 gram (excl. Batteries). Even when using the 4.0 Ah (14.8 Wh) long distance battery, included with Trail Runner Free Ultra, the entire headlamp still only weighs 141 grams. The headlamp is perfectly balanced, with smooth adjustments and a flat, soft textile extension cord that doesn't tangle. The headband is soft, yet firm enough, with a silicone string on the inside to stay in place. The battery can be carried comfortably on the headband or be kept warm in your pocket to save battery life by using the included extension cord.
Go Far Or Go Fast
Choose Trail Runner Free Ultra if you want to go for really long sessions with the 4.0 Ah (14.8 Wh) long-distance battery. With Free Ultra you also get the Hybrid battery case which can be used with either 3 x AAA batteries or by complementing it with a Hybrid battery (1.25 Ah/4.6 Wh).
3 brightness levels
400 lumen
battery indication
Free technology
Hybrid technology
Intelligent light
IPX5
lightweight
USB-C rechargeable
400 lumen output
Weight 117 g incl battery / 55 g excl battery
Max mode: 400 lm / 5-9 h burn time / 80 m (262 ft) light distance
Med Mode: 200 lm / 7-11 h burn time / 50 m (164 ft) light distance
Min mode:50 lm / 18-23 h burn time / 20 m (66 ft) light distance
Free technology headband and connection system
Silva Intelligent Light - combining long reach spot light and a close flood light
Comfortable fit thanks to low weight and anti-slip headband
Red rear safety light built into hybrid battery case
Flat, soft textile extension cord
Water resistant (IPX5 standard)
Max mode indication
Hybrid battery case (AAA batteries not included)
4.0 Ah (14.8 Wh) rechargeable battery with battery indication
USB RECHARGEABLE 4.0AH BATTERY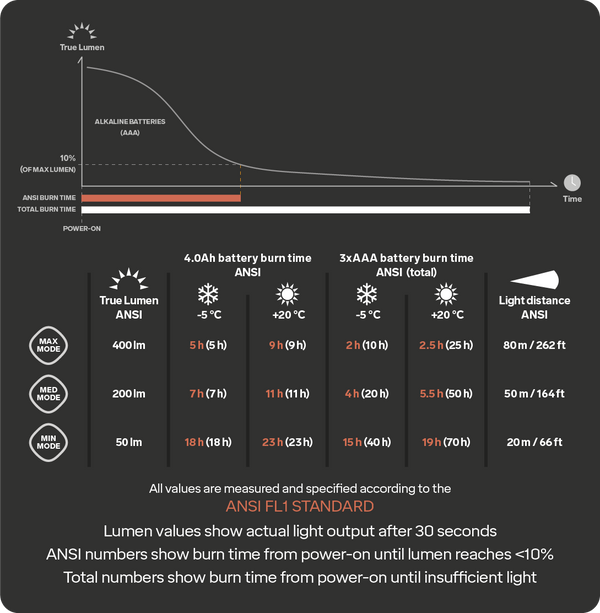 True lumen
Our lumen values are measured 30 seconds after switching the lamp on. We measure lumen according to the ANSI FL1 STANDARD.
| | |
| --- | --- |
| SKU | 37807 |
| Battery indication | Red, Green /Body, 4 green LEDs / Battery |
| Battery specification | Li-Ion 3.7V 4.0Ah 14.8Wh / 3xAAA |
| Charging time | 3h |
| Charging type | USB |
| Connection plug | SILVA compact connector (round) |
| Flash warning | No |
| Included accessories | Headlamp, Headband, Hybrid battery pack, 4.0Ah (14.8Wh) battery, Soft case, USB charge cable, Extension cord, Quick guide |
| Led type | 2 x high power LEDs |
| Light distance max ft | 262.47 |
| Light distance max m | 80 |
| Light distance med ft | 164.04 |
| Light distance med m | 50 |
| Light distance min ft | 65.62 |
| Light distance min m | 20 |
| Lightmodes | Intelligent Light, Max, Med, Min // Blink |
| Lumen max | 400 |
| Lumen med | 200 |
| Lumen min | 50 |
| Warranty | 2 year |
| Weight battery2 g | 85 |
| Weight battery2 oz | 2,99 |
| Weight battery g | 62 |
| Weight battery oz | 2,18 |
| Weight excl battery g | 55 |
| Weight excl battery oz | 1,94 |
| Weight incl battery2 g | 140 |
| Weight incl battery2 oz | 4,93 |
| Weight incl battery g | 117 |
| Weight incl battery oz | 4,12 |