Trail Speed 5XT is an extremely lightweight, compact and very powerful headlamp, combined with a powerful and rechargeable 7.0 Ah (51.8 Wh) battery for extensive training sessions and adventures. This model comes with no less than seven accessories for additional comfort and for different attachment options on your bike, helmet, or headband. This headlamp is the perfect choice for mountain biking, ski touring or longer training sessions in demanding terrain, thanks to the accessories in combination with the powerful battery.

Low weight is essential when you want to push your limits to the next level. The flexibility of Trail Speed 5XT lets you optimize the weight for your specific needs. The new and improved headlamp battery holder keeps the battery in place and improves the comfort when you carry the battery on your head. The battery holder is attached to the headband – just slide in the battery. The battery holder can be detached and replaced by the back cable guide if you want to keep your headlamp clean and lean – either solution lets you carry the battery in your pocket or backpack to keep the weight off your head. With this headlamp you can rest assured that darkness will not stop you.

7.0 Ah BATTERY
Trail Speed 5XT comes with a powerful 7.0 Ah (51.8 Wh) rechargeable battery. This battery allows for long training sessions or activities with a burn time of 40 hours on minimum mode, 16 hours on medium mode and 10 hours on maximum mode. The battery is easily attached to your headlamp battery holder or stored in a backpack or a pocket with an extension cable.

A battery indicator helps you keep track of the charge level before and during your activity. There is also a built-in low battery warning and reserve mode, which automatically adjusts the light to a setting that ensures you get back home safely with 30 minutes of guaranteed light.

7 ACCESSORIES INCLUDED
The Trail Speed 5XT is modular, which means that you can shift the headlamp between the headband, a helmet, or a handlebar. In this model, no less than 7 accessories are included:

Battery holder to keep the battery in place and for improved comfort when carrying the battery on your headband
Bar mount attachment to attach the headlamp to your bike
Helmet bracket designed to fit most helmets with a durable 3M sticker
Extension cord to keep the battery in your pocket or in a backpack
Cable guides to keep the extension cord in place on your headband
Velcro strap for easy attachment of battery on your bike frame
Top band for additional head support
LOADED WITH LIGHT FEATURES
Trail Speed 5XT features Silva Intelligent Light which is a unique combination of a long reach spotlight and a close flood light. This customization of the light results in less head movement and a clear view of near as well as far obstacles, and you gain the balance and confidence it takes to move fast and perform better.

The ingenious Silva Flow Light feature takes the light optimization even further by providing seamless tuning of the light pattern by simply tilting the headlamp. A tilt downwards makes the beams wider, suitable for slower activities like running and mountaineering. When tilting the headlamp forward, the light reaches longer which is needed for high speed activities like mountain biking or skiing.

The super-low mode feature (80 lumen) enables extensive training sessions or races by minimizing the battery consumption when maximum light is not needed. This is perfect for ski touring where you can use the super-low mode when going up and save battery for the downhill skiing.

Additional batteries and accessories are available for this headlamp model. By adding more battery options to your headlamp set-up, you can find the right balance between burn time and weight for different activities and conditions.

COMFORT & WEIGHT
Weight is essential when you want to push your limits to the next level. The flexibility of the Trail Speed lets you optimize the weight for your specific needs. The ergonomic battery holder is designed to hold the battery steady on the back of your head – but can be detached and replaced by the back cable guide if you want to keep your headlamp clean and simple – either solution lets you carry the battery in your pocket to keep the weight off your head.

The wide anti-slip headband and battery holder ensure a comfortable fit even during long and rough activities. The detachable top band gives extra support when needed. The headband is designed to fit on a helmet by detaching the back plate – thus giving you the flexibility to use either the included helmet bracket or to just snap the headlamp onto your helmet and go. A bar mount attachment is also included if you prefer to place the lamp on a bike handlebar and use it as a bike light. It fits handlebars with a dimension between 22-35 mm.

The flexible attachment options and the headlamp's ability to withstand all types of weather and terrain further enhance the multi activity possibilities.
1200 lumen
3 brightness levels
bar mount
battery holder headband
battery holder velcro
battery indication
extension cord
Flow light
headband
helmet attachment
Intelligent light
IPX5
reserve mode
top band
USB-C rechargeable
1200 True lumen
Weight 321 g incl battery / 86 g excl battery
Max mode: 1200 lm / 4-10 h burn time / 160 m (525 ft) light distance
Med Mode: 450 lm / 12-16 h burn time / 70 m (230 ft) light distance
Min mode:80 lm / 40 h burn time / 40m (131 ft) light distance
7.0 Ah (51.8 Wh) powerful and rechargeable battery
Silva Intelligent Light - combining long reach spot light and a close flood light
Silva Flow Light - vary the light pattern depending on your activity
Comfortable fit thanks to the wide anti-slip headband
Silva Connection System - enables use of any Silva Li-Ion battery post 2008
Super-low mode (80 lm) - maximizes burn time
Battery level indicator and low battery warning
Reserve mode that ensures at least 30 minutes of use
Large on/off button - easy to operate even with gloves
Water resistant - both headlamp and battery meets the IPX5 requirements
TRAIL SPEED 5XT WITH 7.0AH BATTERY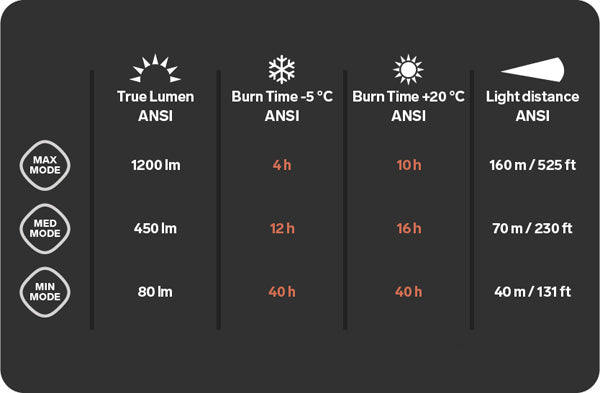 True lumen
Our lumen values are measured 30 seconds after switching the lamp on. We measure lumen according to the ANSI FL1 STANDARD.
| | |
| --- | --- |
| SKU | 37981 |
| Battery indication | 5 step indication // Battery |
| Battery specification | Li-Ion 7.4V 7.0Ah 51.8Wh / Hard case |
| Charging time | 8h |
| Charging type | USB/ Silva charger |
| Connection plug | SILVA connector rectangular |
| Flash warning | Yes |
| Included accessories | Headlamp, Headband, 7.0Ah (51.8Wh) battery, Battery holder, Helmet bracket, Bike bracket, Velcro strap, Extension cord, USB charge cable, Top band, Cable guide rear, Cable guide, 3M stickers x2, Quick guide |
| Led type | 2 x high power LEDs |
| Light distance max ft | 524.93 |
| Light distance max m | 160 |
| Light distance med ft | 229.66 |
| Light distance med m | 70 |
| Light distance min ft | 131.23 |
| Light distance min m | 40 |
| Lightmodes | Intelligent Light, Flow Light, Max, Med, Min (Flow light ON) // Max, Med, Min (Flow light OFF) |
| Lumen max | 1200 |
| Lumen med | 450 |
| Lumen min | 80 |
| Warranty | 2 year |
| Weight battery g | 235 |
| Weight battery oz | 8,28 |
| Weight excl battery g | 86 |
| Weight excl battery oz | 3,03 |
| Weight incl battery g | 321 |
| Weight incl battery oz | 11,32 |