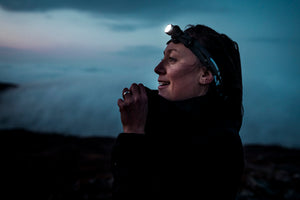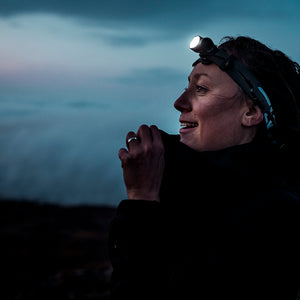 Our head torch philosophy
Designed to move you forward
Our head torch philosophy differs from others. Instead of only focusing on technology, our idea is to truly understand the user. We believe that you need to understand how the human body is moving, seeing, breathing, reacting and even sweating. That, in combination with cutting edge technology, will create the perfect head torch.
A part of you
All our products are designed to be an extension of your own body, and to help you optimize your activity, by improving how it deals with weather, darkness, different terrain and temperatures.

The reason for this is simple. When you are out in the dark, we want our head torches to follow your every move and to enhance your senses. This will give you a feeling of freedom, and it will improve how your body and mind deal with external circumstances.
Our goal is to create head torches that feel like an extension of yourself, well-balanced, and with a comfortable fit. Also, they are water-, and sweat-proof for your safety.

For decades, we have worked with active people and true outdoor enthusiasts who demand nothing but the best when it comes to their equipment, both in terms of technology and comfort. Today we offer a range of head torches suitable for any activity and any preference.
8 important principles
All of our head torches are designed to be as slim and nimble as possible, and we want every headtorch to strike the perfect balance between weight, durability and lumen/power for every specific activity.
In order to create a high-quality headtorch, we take more aspects than lumen into consideration. Eight others, to be precise.
1. Comfort
One crucial part in reaching high comfort is the headband. This should fit well, yet not be too tight. This is why our headbands have thought-through comfort details such as the anti-slip silicone string on the inside, a compact battery and a stability-enhancing plate fitted on the back of your head.
2. Light
We create multi-mode headtorches that are designed around how the human eye works in darkness. We believe that the best light is not necessarily having much light. Sometimes, you need more light close to your feet. In other situations, a long-reach spotlight is more useful. On several of our lamps you can also choose red, yellow or white light to make the most out of your night vision.
3. Temperature
The outside temperature is an important factor for maintaining the battery length. The colder it gets, the less battery capacity you get. Our headtorches come with the SILVA Connection System, which makes it easy to change batteries, and our multi-activity headtorches also include an extension cable to enable you to wear the battery close to your body.
4. Time
The more light output (Lumen) you want, the more battery power you need to take with you. If you only use your headtorch for shorter runs or activities, you can choose a lighter battery. On the other hand, if you want to be out for long runs, or for several days, you should choose a headtorch that enables using extra batteries.
5. Focus
Studies show that a widened field of view is more pleasant for the eye, and therefore the optics in our headtorches are designed to avoid tunnel vision and unpleasantly sharp contrasts. The lamps are also designed to create a fading transition from light to darkness.
6. Terrain
Even the terrain will influence your choice of headtorch. If you run mostly on asphalt and on easy trails, you will need less light (lower Lumen) than if you run off-road and on rugged or rough surfaces. Instead, in these conditions you require more light (Lumen) to be able to foresee obstacles along the way.
7. Speed
Different activities and various speed require different types of light or light images. When running, you want most of the light closer to your feet. When biking you need a long spotlight to see what's ahead of you.
8. Activity
Some of our headtorches are designed for multiple activities. This means you can easily move the headtorch between your headband, your helmet or your bicycle handlebar, and hereby use it for just the type of activity you wish.
SAFETY ABOVE ALL
The head torch is one of your most important safety details, and there is no room for compromises. All our torch models have to prove their durability and reliability in Scandinavian winter conditions and the batteries are equipped with the right features to keep you safe.
BATTERY INDICATOR
Shows how much power that remains in the battery.
BATTERY WARNING & RESERVE MODE
A low battery warning function notifies you with a blinking and the headlamp automatically switches to reserve mode when 15% battery time remains. The reserve mode in some of our headlamps ensures that you have a minimum of one hour of light before it runs out of battery.
IPX
IPX5 withstands heavy rain and the toughest weather conditions. IPX7 can be submerged in water for up to 30 minutes at a depth of 1 meter.
A perfect balance
Technology and human complexity
At Silva, our primary focus is understanding you as a user. By studying the human body, and learning more about how to optimize different activities, we look for the answers to help us develop cutting-edge head torches.
There is always more to discover
View all