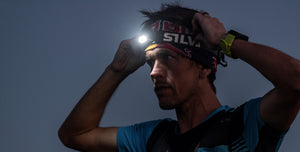 The Desert Champion
The South African trail runner Ryan Sandes is one of the absolute top endurance runners in the world. In 2010 Ryan became the first competitor to have won all four of the 4 Deserts races, each a 6/7-day, 250-kilometer self-supported footrace through the Atacama Desert in Chile, the Gobi Desert in China, the Sahara Desert in Egypt, and lastly Antarctica.

Ryan has been a part of the Silva family since 2021.

Merits
Multiple world champion in Ultra-trail
Four-time desert race champion
Winner of Western State 100
Ryan Sandes
ULTRA-TRAIL
What is it about running ultralong distances that keeps you going?
The unknown. I love the fact that ultra distance running is about overcoming both mental and physical challenges. It is such a humbling experience as one minute you think you are on-top of the world and next minute you hit rock bottom.

How do you train during a "typical" week? 
It all depends on what I am training for and where I am in my cycle of training. On average I run between 15 – 20 hours a week, I spend about 3 hours doing mobility and strength work and then another 2 hours on recovery such as getting massages and seeing my chiropractor etc.

What do you bring along when running ultralong distances? 
It depends on the conditions but a headlamp, rain jacket, sunscreen, anti chafe and a mobile phone is a good starting point.
Please share one of your favorite training memories
Last year I paced a friend of mine through the night who was running the 13 Peaks Challenge on Table Mountain. It was his first ultra distance long run through the night and it was really cool to share the experience with him. There is something really magical about seeing the sun set from on-top of the mountain and then running through the night before watching the sun rise above the city of Cape Town and seeing the entire city wake up.

Which one is your favorite Silva product?
Silva Trail Runner Free and Dry Bags are pretty rad.