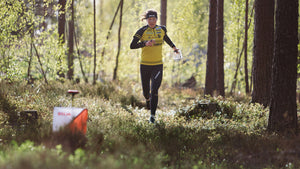 World Champion in four different sports
The incredible Tove Alexandersson has been ranked world number one in four different sports: Orienteering, Ski Orienteering, Ski Mountaineering and Sky Running. She has won countless of world championships and is truly one of the greatest of all time within the Orienteering community.
Tove has been a part of the Silva family since 2014 and was heavily involved in the development of our orienteering compass series Arc Jet.

Merits
15-time World Champion in Orienteering
10-time World Champion in Ski Orienteering
World Champion in Sky Running
World Champion in Ski Mountaineering
tove alexandersson
ORIENTEERING & SKI ORIENTEERING
How come you started with orienteering?
I come from a family of orienteeres so it was quite naturally for me to start as a child. What I love about orienteering is the great variation, it's always new tracks and different types of terrain. You never know what to expect. I love to be out in the nature and it's both fysically and mentally challening.
What is your favorite destination in the world?
New Zeeland. An amazing place for adventures, I still have a lot to discover so I will definitely head back as soon as possible.
TOVE ON Arc Jet
When do you use Arc Jet?
I use Arc Jet for all orienteering training and competition. 
What do you think about Arc Jet?
Arc Jet has an incredibly fast and stable needle and a neat design that makes it perfect for high-speed orienteering. 
To whom would you recommend Arc Jet?
Arc Jet is an awesome compass to navigate fast and safely in the forest. 
TOVE ON SPECTRA O
When do you use Spectra O? 
I use Spectra O when it's dark outside but I still want as much light as possible. Especially during night orienteering when the conditions demand a lot of light and the headlamp really needs to perform. It is also a great choice for ski mountaineering, trail biking and other activities when I go full speed even though it is dark. 
What do you think about Spectra O? 
Spectra O has an astonishing light beam but it is still rather low in weight. The light beam is just right where I need it the most. 
Who would you recommend Spectra O to? 
I would recommend Spectra O to anyone who wants to maintain the same speed during the dark hours as you do in daylight. 
How often do you workout?
Approximately 600-650 hours per year or 9-12 sessions per week. Each week I have 1 restday when I'm 'off duty' and can just relax or travel to a new competition. My races are often during weekends. I have kept an training diary since I was 15 where I write how long each session takes, pulse zones, distance, type of session (interval, running or biking etc.) Training is all about enjoyment and creating the ultimate conditions in which to perform well in races.
Your best career memory so far?
To run the World Championships 'at home' in Strömstad. Amazing terrain and tracks and it went quite for me. I had really looked forward to the race, I was nervous but also so keen.