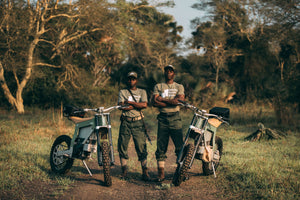 Silva is a proud partner of
Swedish Cake's electric bush bikes will help Southern African Wildlife College to put an end to poaching. Silva is proud to be a partner to this initiative and deliver Exceed head torch to the electric bikes.
Poaching is one of the primary reasons that some species in Africa face the risk of extinction. The organisation Southern African Wildlife College's anti-poaching teams have previously used gas-powered dirt bikes for patrolling, but these bikes are loud and alert poachers from miles away. Another problem is that the gas has to be brought to the field by helicopters or trucks, which pollutes and impacts the environment.
Kalk AP
the quiet and solar-powered electric motorbike
In collaboration with the Southern African Wildlife College, Swedish Cake therefore developed an electric motorbike specifically designed for anti-poaching – the Kalk AP (AP = Anti-poaching). This electric motorbike is quiet, which makes it easier for the team to approach poachers undetected. Furthermore, Kalk AP is solar-powered and can therefore be operated far from the electrical grid.
Equipped with Silva Exceed
The bikes are equipped with the powerful Silva Exceed head torch that helps the anti-poaching patrol to detect poachers and illegal traps at night.