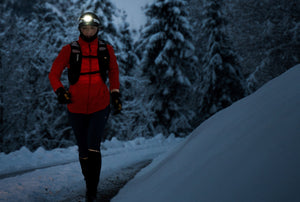 Pushing the limits to the extreme
For Norwegian skier Hedvig Wessel a task is never too big or too hard. She lives in Engelberg during the winters to compete in freeride skiing and even though she was born in 1995 she is also a two times Olympian competing in mogul skiiing. We are happy to be working with Hedvig and to share exciting product launches through her extreme skiing.

2022 is Hedvig's first year as part of the Silva family.


Merits
2 times Olympian
3 times Norwegian Freeski Champion
Several podium runs on the Freeride World Tour
Hedvig Wessel
Freeride Skiing
What do you love most about your sport?
I think it's the combination of it all. First of all, being out in the mountains really makes me a happy person. I love skiing because of the speed, the complexity, and how the sport never stops evolving. I love being part of a changing environment, and I see the mountains as a place with endless opportunities. I love skiing simply because it makes me happy. 
How do you train for it?
I train differently depending on the seasons. However, what is common throughout the year, is strength training. I go to the gym a few times a week, mostly focusing on legs and core. I believe a combination of workouts and training is the best, and that's why I do everything from biking, running, climbing, surfing and yoga. Being active every day is the most important for me. In the winter I ski as much as I can, until my feet hurt too much. I believe that the more I ski, the better I become, as long as I'm having fun.
What do you train during the dark season?
I still go to the gym, run and ski. I love the dark season. There is something special about it. Sunrise and sunset are the best things I know. I honestly had my best experiences being on the mountain while the sun is either rising or going down. Such a magical light, the sound, and the smell. It might also be the silence. Much love! 
What products from Silva do you use and how do they facilitate your training?
I really love Trail Running Free because of the lightness. It's the lamp I use the most, for everyday activities. When I go ski touring in the night, or go on bigger missions I use the Exceed head torch which is stronger. It is perfect when I need wider and more clear vision.  
 How do you overcome challenges when training and competing?
I try to always focus on the positive. I love challenges because it's driving me forward. Even though they can be painful, I try to enjoy the pain and use it as motivation. Because when it's painful, I know I'm getting better. When I see or meet a challenge, I know it's a part of the training to make me better. I, therefore, use my energy to think positively about the challenge and find ways to surpass it the best way possible.