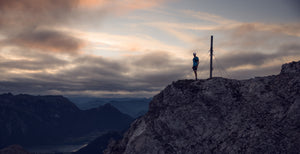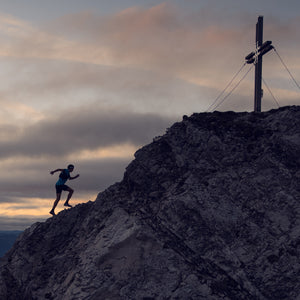 The world's most comfortable head tourch
Trail Runner Free is a new series of iconic head torches. The head torches are designed for running and features a new kind of technology where the power cord is integrated into the headband. This, in combination with soft textile details, enables a unique comfort experience for all runners.
Discover Free Technology
With Free Technology, all cords and cables have been woven into the headband. No distracting cords. No hassle. Just free the energy.
For everyone who loves running
There are many head torches in the market without cords, but up until today, that has always implied batteries integrated into the actual head torches, resulting in uneven weight distribution and unergonomic movement.

Integrated cords
With Free Technology all cords and cables have been woven into the headband, enabling perfect weight distribution and the most ergonomic placement of the head torch in front and the battery on the back of your head – but still without any distracting cords between the head torch and the battery. This brings a comfortable and lightweight experience, no matter if you are running an ultra marathon or simply going for a run in the woods.

Soft textile details
Apart from being perfectly balanced and lightweight, the Trail Runner Free head torches features soft textile details. The headband is soft, yet firm enough, with a silicone string on the inside to stay in place. And the extension cords, that enable you to move the battery from the headband to a pocket or a backpack, are flat and covered with textile just like a shoelace.

Customized light distribution
All of the head torches in our Trail Runner Free series features Silva Intelligent Light. This means that you get a double light beam technology in your head torch, with light settings that are perfect for running. Our unique combination of a long reach spotlight and a close flood-light, results in less head movement, better control, improved balance, less fatigue and higher speed. The head torches also feature an additional red safety light at the Hybrid Battery Case.

Lightweight
Despite the focus on technological breakthroughs, we have not forgotten about the importance of weight optimization. Every part of the head torches has been compressed and the unit only weighs 55 gram (excl. batteries). Even if you were to use our biggest long distance battery, included with Trail Runner Free Ultra, the entire head torch would still only weigh 141 grams. If that is too much, simply use the included extension cord and put the battery in your pocket or backpack.
Hybrid battery case
The Trail Runner Free series is made for running in every aspect. We are now introducing a versatile battery case – called Hybrid Battery Case – which enables use of both rechargeable and alkaline batteries when using the Trail Runner Free for longer runs. The battery case also holds an integrated red rear safety light adding extra visibility. No matter which version of Trail Runner Free you choose, it will always come with the hybrid battery case.
If you choose the Trail Runner Free H, it comes not only with the hybrid battery case, but also with our new Hybrid Battery – a really slim, lightweight and rechargeable battery. All our batteries and cords can be purchased separately which means that you can customize your head torch based on your needs.
Hybrid Battery 1.25Ah
3xAAA batteries
Choose your companion
Trail Runner Free comes in three different versions, Trail Runner Free, Trail Runner Free H and Trail Runner Free Ultra. They all carry the same light unit and features, the difference lies in the batteries.
ward winning head torch: ISPO awards 2020
The jury's motivation:
"Silva's Trail Runner Free head torch scores with a technical innovation that takes head torch design to a new level: the power cable is fully integrated into the elastic headband. The fifth generation of Trail Runners enables running without disturbing cables, is compact and light – and a winner in the Running segment in the Lighting & Safety category. With its powerful, compact battery, the lamp is suitable for all routes, whether short in the city or long on the trail run."
Trusted by Mimmi Kotka
Mimmi Kotka is one of the worlds most prominent ultra runners and she is a member of the Swedish National Team in ultratrail. She has won several international competitions throughout her career, among them the Mont-Blanc 80 km marathon and the Swiss Alpine Marathon.

Mimmi is an ambassador for Silva and she was one of the first athletes to try our new head torch Trail Runner Free, this is her words about the experience:

"Running with the Trail Runner Free is great. I love the integration of the power cord in to the headband, it makes for one less thing to be distracted by. And as always the capacity of the Silva head torches are great. For me, often running in exposed environments in the dark or on technical decent, this is so important."