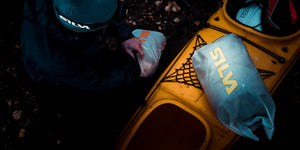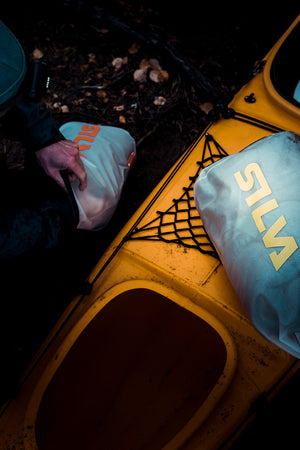 Dry bags protects your belongings and keeps them organized
Waterproof and organized packing
You know that the extra headlamp battery that you need right now is packed away somewhere, but you can't remember where. You can feel the sun burning your skin between the warm breezes, but your sunscreen is at the bottom of the big bag. And what about that piece of chocolate you've been craving for several nautical miles?

Pack smart, light and dry with colour-coded waterproof dry bags. Silva's durable and soft dry bags, which hold from 3 litres up to 48 litres, depending on the model, keep moisture out even when the waves are washing over you at their peak. Keep track of both sunscreen and chocolate and find what you need quickly and easily!
Dry bags in 100% recycled polyester
Choosing the right series
Choose the Silva dry bag range that suits you best.
Terra Dry Bags are light, durable, and made from 100% recycled PET material. In addition, we have minimized inking and printing to further reduce the climate footprint.
 R-Pet Dry Bags are available in 3, 6, 12, 24 and 36 litres and are made of 100% recycled material that is both light and durable. The dry bags are colour-coded according to size, so you know what you've packed in which bag. The chocolate together with nuts and dried fruit in the 3-litre pack bag and then the socks together with dry base layers and shell garments in the 12-litre pack bag.

Built-in valve for smarter packing
The bags in the series TPU and TPU-V are our most durable dry bags. The TPU-V models have a built-in valve so you can squeeze the air out of your bag and pack extremely compactly in a confined surface. These dry bags are for those who really want to maximise space!

The series 70D made of durable nylon, has even clearer colour coding so you can find the right dry bag even faster.
To pack soft is to pack smart
Soft packs are generally more convenient to store in your boat than hard bags. Anything soft is easier to stow away.

Silva's dry bags are made for all occasions when you want to pack waterproof. In the kayak, on the boat or perhaps for hiking when you have solid ground under your feet. If it starts pouring during your hike or snowing during your ski trip, you'll keep your gear dry in your backpack and never have to worry about wet packs weighing you down. 

What's more, because our bags are so durable, they can withstand lots of wear and tear over long periods of time.

Creative uses
We have developed our dry bags for smart and convenient packing, but we get tips from our customers for more clever uses. Just as dry bags keeps water out, they can also be used to keep water in. One user showed us how she used her smallest dry bag as a water bowl for her dog on a hot summer day.

Another user filled his dry bag with air and used it as a flotation device when swimming across a large body of water. Afterwards, you can pack wet swimwear or towels in your dry bag to keep moisture away from other things in your pack! These tips work just as well on the boat as on the way home from the swimming pool.
Cosy tent lighting
Create cosy lighting in the rough by placing your headlamp in the dry bag and hanging it up. In the series TPU-V and TPU there are hooks on the inside of the smaller models so you can easily hang the headlamp from them. Our recommendation is to have our waterproof Explore headlamp in your packing, as it's waterproof to IPX7.
Fill your dry bag with air and you'll have a soft back support or neck pillow when you lie and listen to the weather forecast in the evening.
There is always more to discover
View all