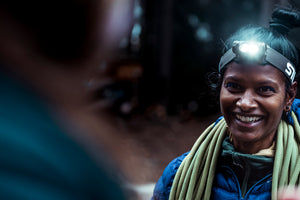 Let us broaden your perspective
Built for sight
The technology behind Silva's light sources is actually rather uncomplicated. Instead of just focusing on the technical aspect of light, we look through the human eye; aiming to create light beams that are adapted to how your eyes work in the dark. This will give you an optimized light for your activity. And this is what we call Silva Intelligent Light.
Widen your perspective
All Silva head torches are also designed to widen your perspective – in several aspects. The optics in all our head torches are designed for you to avoid tunnel vision and sharp contrasts by creating a fading transition from light to darkness.

All in all, this light technology results in less head movement, better control, improved balance, a widened field of view, less fatigue, higher speed and offers a more pleasant experience for the eye.
The right light for you
We believe that the right head torch for you is the one giving you perfect conditions in the dark, the one fitting your activity, and the one having just the right burn time. Which one you choose depends on your specific activities, needs and preferences.
True Lumen
To measure Lumen, we use the most reliable method currently available: TRUE LUMEN (according to the ANSI/NEMA FL1 flashlight basic performance standard). The specified Lumen values are measured 30 seconds after switching the lamp on, to ensure that it reflects the light quality you experience out there in the dark.
Look beyond lumen
When measuring Lumen, there is no global standard scale but we use Ansi as previously stated. Also, as Lumen only measures power, it will not give you all the information you need when choosing a head torch. Instead, your choice should be affected by other factors such as the lamp's size and weight as well as how long its battery time is. Last, but definitely not least; the third, and most important factor is what kind of activity you are heading for as different activities require different amounts of Lumen
Silva Intelligent Light
Silva Intelligent Light is a double light beam technology featured in all Silva head torches. The unique combination of a long reach spotlight and a close flood-light results in less head movement, better control, improved balance, less fatigue and higher speed.
Silva Flow Light
Silva Flow Light is an ingenious feature that gives you several versions of Silva Intelligent Light in the same head torch. Developed for multi-activity users, and featured in all our multi-activity head torches, it enable seamless tuning of the light image for different activities by simply tilting the light up or down. When pointed downwards, the light beam becomes wider and optimized for slower activities. Pointed forward, the light beam gets longer and optimized for faster activities.
Three LED colours to preserve your night vision
In addition to standard white light, some Silva models have a red light mode that preserves night vision, along with an orange light mode. This will enable you to see contours on the map and still preserve night vision, which is a perfect feature for night sailing, orienteering etc.
Red light
Optimal night vision preservation.
Orange light
Good for map reading and preserves night vision.

White light
Preset or flexible flow light
A fixed preset light is perfect for walking and running. If you want a multi-activity head torch you should go with one of our head torches with the tiltable flow light, which creates a flexible light beam depending on the speed of your activity.
In rain or snow
Move the head torch from your head to chest height. This is more comfortable for the eyes and improves your vision.
Find your head torch
When being outdoors in the dark, we want you to feel like your head torch is an extension of your body and fulfills all your needs.
Learn more
There is always more to discover
View all