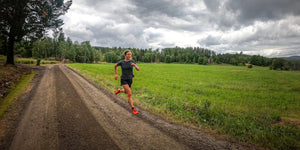 Multiple world champion in sky running
What first began as a hobby has taken our friend Emelie all the way to the top of both mountains and podiums. She won several championships throughout her career in Sky Running and Ski Mountaineering. Her top results and solid-as-a-rock-mentality has turned her into a role model within the growing sports of sky running and ski mountaineering.

Emelie has been a part of the Silva family since 2017.

Meriter
World champion in UltraSky Marathon
Multiple world championship runner-up in Ski Mountaineering
Co-founder of Moonvalley
Emelie Forsberg
SKY RUNNING & SKI MOUNTAINEERING
What is your favorite type of workout?
Hmm, there are so many! I love long days in the mountains, but also the hard and short interval sessions. It's all about the contrasts!
How do you work out during the darker season?
I like to exercise in the dark. It's only for a few months, and it's a special feeling to put on the headlamp and get out there. For sure it can be challenging, but it's so rewarding. And with a headlamp, it works perfect!

What should one think about if they would like to try your activities?
Sky Running is one of the most rewarding activities there is, and with the Swedish mountain cabins, it is easy to just run between them – just pack a change of clothes and get going! Regarding Ski Mountaineering I would recommend that you try it together with someone more experienced, there are risks you should be aware about such as avalanches and irregular snow layers.

How do you find strength to keep going even when your body screams no!?
If I know that this is something that I really want to do, I just do it. After a while it just gets natural to keep going. I got exhausted a while ago and I was so tired and lost my form. The road back was long but I knew I would get there and now I am back, stronger than ever before.

Which one is your favorite Silva product?
I love the amazing light from the Trail Speed series. It is magical to run with it during the darker hours!