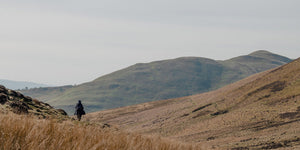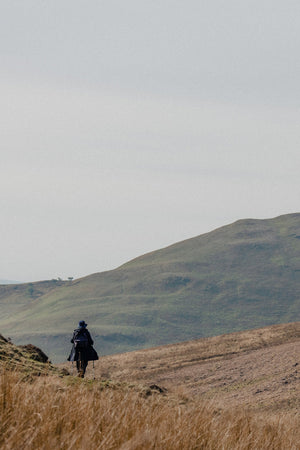 82-year-old Laila Kjellström hikes every other day to find strength in her partner's struggle with dementia. On her 81st birthday, she climbed Ben Vrackie to raise money for dementia research. Last year, she ascended Suilven in memory of her father and founder of SILVA, Björn Kjellström, who had Parkinson's disease. Her most common phrase? "Why not?"
there is always more to discover
The rolling hills and moorlands close to Edinburgh, Scotland, seem to stretch into infinity. The colours harmonise perfectly: the misty blue sky, the green hills and the deep purple heather. In the centre of the picture, there's an 82-year-old woman in a navy blue hat. Her name is Laila Kjellström, and she has just sat down to meditate after two hours of hiking in steep terrain.
Always enjoyed hiking

Laila is the daughter of Silva founder Björn Kjellström, but unlike her father, she has never been interested in orienteering. In fact, she has never been particularly interested in any sports at all. Laila participated in a half-marathon but stopped running because of knee problems. She visited the gym once but found it boring. However, she has always loved hiking:
– Hiking makes me feel strong and energised. More importantly, it strengthens me mentally, she says.
Laila was born on 4 June 1940 in Stockholm and grew up in Norrviken. Her father Björn had started Silva a few years earlier with his friend Gunnar Tillander and his brothers Alvar and Arvid. Her mother stayed home with Laila and her two brothers.
Laila loved being outdoors and was fascinated by nature. In the winter, she skated on the lake and skied across the street. The family spent the summers in the archipelago sailing, swimming and picking blueberries.

A lifelong love of New Zealand
Laila's parents separated later. Laila followed her father to the United States when she graduated in 1959, studied psychology and sociology and eventually became a study counsellor for exchange students.  
10 years later, she travelled the world with her first husband. The marriage did not last, but the travelling sparked a lifelong love of New Zealand. Laila decided to stay, joined a hiking club, met her second husband and had a daughter. 
In 1981, the family moved halfway across the world to Dundee, Scotland. After going through a divorce, Laila moved to Edinburgh where she worked as a psychotherapist for 24 years. 
Climbed 282 Scottish mountains
Laila climbed her first munro – a Scottish mountain with a height of over 914 meters – with her hiking club. If you climb all 282 munros, you become a Munroist. Since the first climb went well, Laila thought: "why not?" and accepted the challenge. She climbed munros twice a month, and shortly after retiring in 2007, she ascended the last peak and officially became a Munroist.
Laila describes hiking as a spiritual activity, and she often sits down to meditate on a bench in the forest or by the sea. Ever since her partner Rod was diagnosed with dementia two years ago, hiking has helped Laila to reduce anxiety about the disease:
– Hiking is like a vacation from all my emotional concerns. A safe space where I can find new strength. Nature heals me.
Laila doesn't notice much of a difference physically in hiking compared to when she was younger.
– The only difference is that I appreciate it more now. I'm more grateful.
LAILA KJELLSTRÖM
BORN: 1940
LIVES: Edinburgh, Scotland
FAMILY: Partner Rod, daughter Kat 44 years
CAREER: Psychotherapist
ACTIVITY: Hillwalking
Climbs new mountains to raise money

To overcome the boredom during the lockdown, Laila set a goal: to climb Ben Vrackie (841 meters) on her 81st birthday and raise money for dementia research. She completed her goal on 4 June 2021 and immediately set a higher goal: at 82, she would climb Suilven and raise money for Parkinson's research.
– My father suffered from Parkinson's disease, and I witnessed how the disease affected him. He went from being an active person to becoming physically weak.
During the hike, Laila used the memory of her father's fight as a motivation. She and the mountain guide Charlie Burrow started the climb at 8.00 am. As they progressed, the trail got more technical and steeper:
 – I didn't know if I was brave or just crazy, Laila says.
When they reached the peak at 731 meters after 10 hours of hiking, it was all worth it. The view was spectacular. 

Start where you are
Laila feels motivated to hike most of the time – she doesn't like to sit in the apartment for a whole day. When the weather is bad, she bribes herself with a hot chai tea at Caffè Nero after the hike. What advice would Laila give someone who wants to start hiking? 
 – Just start. You don't have to wear technical hiking gear or walk a certain distance. Just wear comfortable shoes or hiking boots and a waterproof jacket. Walk to a park nearby, sit, and listen to the birds for a while. Don't be afraid of going to new places or walking alone in the woods. Join a hiking club if you want company and suggestions for hiking routes. 
What advice would you give...
... a 20-year-old?
– Be true to yourself, and don't be afraid to be yourself. Trust that you know what is best for you, even if your parents or friends disagree.
... a 40-year-old?
–  Reflect on what you have done in life and what you regret not having done. You still have the chance to try a new job, learn a new language, travel or do things that scare you.
... someone your age?
– Accept that you may not be as strong or alert as you were 20 years ago. But don't let that scare you. You can still enjoy the outdoors, good friends, intriguing books and maybe even travel. Keep in touch with people who have been important to you, personally and professionally.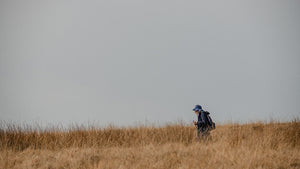 "Hiking is freedom – a vacation from everything going on in life"
There is always more to discover
In her 82 years, Laila has overcome several setbacks thanks to her positive outlook on life. Her psychotherapist career made her open-minded and helped her accept that people don't always think or act like her.
– I am convinced that we all know what is best for us if we learn to follow our gut feeling. I'm careful with giving advice, but I can offer suggestions.
What should people do more often?

– Meditate, read and listen to beautiful classical music. Buy fewer things and spend more time outdoors. And be generous to other people, not by giving them money but by listening. Truly listen. Don't believe you fully understand what the other person is going through, be careful with giving advice. Just listen.
Laila has finished her meditation in the Scottish moorlands. With a playful look, she says: "I know exactly where we should go." She won't say anything more. The destination is supposed to be a surprise. Then she starts walking at the same determined pace as before, and we must hurry to catch up.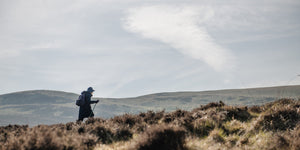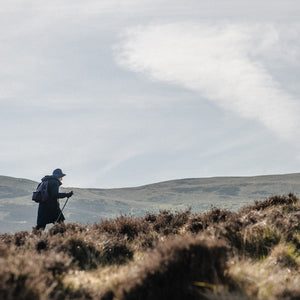 there is always more
to discover