Let go of your everyday life and find your flow
Your feet barely touch the ground. Your legs keep going for as long as your heart tells them to. You catch a glance at your watch, increase your speed and let go of everything else but this very moment. No matter if your goal is to reach the summit or if the finish line is your front door at home or today's stage on your multi day adventure, running is your charger. You run to feel, to live and for the presence that grows from each step.
Discover the Strive series
Let your flow find you when you run and let your strive be part of you every mile. You have already chosen your favourite running shoes, you have your goals all set and you know the importance of energy. Now choose your running vest. Carry your Strive Mountain running pack and feel the freedom of movement even when it is filled with all your needs for longer running adventures. Or run fast with Strive Ultra running vest when every gram counts. Make way for your morning run with Strive belt which is perfect for keys, cards or other things small. Or choose Strive Light Black when the look is as important as features and function.
At Silva, we are just like you. We run to get rid of stress and we run to fill our souls with new energy. We run for the adventure, for the experience and for that personal best we want to beat. We run because we love the feeling. To feel tired, happy and to feel alive.
Strive mountain pack

This is your perfect companion when you plan for long distance running and want to fit everything you need. Will you be running for several days? No problem. Choose between Strive Mountain pack 17+3 liters or 23+3 liters and have enough space for a change of clothes, charger, energy, safety equipment and a pair of slippers for the evenings when you have reached today's stage. Taking care of your feet is key. The Strive Mountain pack is featured with Silva Embrace Systsem, which is developed to keep the running pack comfortably on your back despite heavy packing and many hours of running.
Strive Light Black
Run comfortably, and run in style, with the Strive Light Black running vest. With its sleek style, smart functions and freedom of movement you will fit what you need in the 5 liter or 10 liter version. Keep on running regardless if you aim to be a faster runner or if you run for your health. Strive Light Black is developed in collaboration with experienced ultra-runners to ensure great details and feeling. It is made of lightweight breathable 3D mesh fabric for optimal ventilation and sweat transport and it also features reflective details, a whistle and a bracket on the back to mount a safety light.
Strive Ultra Light
When you chase records you know that every gram matters, thus Strive Ultra Light is the optimal running vest for you. This is our most slimmed down running vest that is as high performing as the goals you want to achieve. It weighs from 139 grams and fits just what you need for your personal bests. Strive Ultra Light is made of lightweight beathable 3D mesh fabric and the design enables easy access to energy gels so that you can concentrate on keeping your speed to the finish line.
Strive Belt
Go for a morning run with your home key and bus card just in the right place: your Strive Belt. This is our lightweight and flexible running belt, perfect for your shorter runs. Run with confidence, knowing that your phone, keys, energy and credit cards are all with you – kept close, safe and dry.
Hydration
Do you need an extra soft flask or hydration pack for your running vest? Here you will find accessories to complement all our Strive products.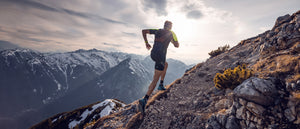 New models. Smarter features. Better fit.
Optimal fit
A good fit is one of the most important aspects when we invent and develop new running vests. We want you to run with a smooth feeling despite what you carry with you, therefore we make our products available in several sizes. Strive Mountain Pack, our running pack with the most generous packing compartment, has been thoroughly developed for a good fit and full freedom of movement despite many hours of running with heavy packing. We call it Silva Embrace System.
Thoroughly developed
Thanks to our team with Silva friends, that consists of enthusiastic runners and professional athletes that run as their daily job, we receive direct input that we put into consideration when we develop running vests and packs. The result is a great fit, full freedom of movement, innovative design thinking for clever compartments and easy access to energy and materials that perform when it comes to ventilation and sweat transport. 
Silva Embrace System
The Silva Embrace System is a carrying system developed to hug you properly and ensure that the backpack does not bounce around on your back. It is a double layered carrying system with side wings for a close hug fit and with three attachment points for extra stability. The system makes the backpack very comfortable to carry and run with and it prevents the backpack from bouncing around. The Silva Embrace System also helps improve the weight distribution between shoulders, back and waist which makes this product easy to run with even when fully packed.
Guide
Pack for running
Whether you run trail races, keep up with running streaks or multiday adventures you will find the perfect running pack from Silva.
Read more