Headlamp Battery 3.5 Ah (25.9 Wh) is a slim and lightweight battery. It is rechargeable via USB-C and can be attached to a bike frame, handlebar or similar with the Battery Velcro Strap (sold separately). It can also be attached to your headband using the Battery Holder 2.0/3.5. This battery fits headlamps in the series Exceed, Trail Speed and Cross Trail.
This battery is water resistant in accordance to the IPX5 standard and includes a smart velcro attachment giving you additional flexibility while using your headlamp. It has a battery level indicator and offers a great mix of burn time and weight optimization. The battery indication will be displayed for 30 seconds after you turn on the headlamp. Headlamp Battery 3.5 Ah (25.9 Wh) has the Silva standard cable connector (rectangular) meaning that it fits all headlamps with a rectangular connection plug from 2008 and onwards.
Optimized charging
The Headlamp Battery 3.5 Ah (25.9 Wh) features USB-C charging and has a 5-step battery charge indicator. The charging time is 4 hours by default. However, if you combine it with the Headlamp Battery Charger you can reach up to 4x faster charging. You can also use the USB Charge Adapter along with this battery to turn it into a power bank – perfect when you need to charge your mobile phone or tablet on your adventure.
Fits professional headlamps
The Headlamp Battery 3.5 Ah (25.9 Wh) also fits headlamps in our professional series with the rectangular connection plug. Among them LR2000 RC, LR1200 RC and LR600 RC.
3.5 Ah (25.9 Wh) slim & lightweight battery
Weight: 129g
Fits Exceed, Trail Speed, Cross Trail & LR-series
Silva rectangular connection, enables use of any Silva Li-Ion battery post 2008
5-step battery indication
Compatible with Velcro Strap, Headlamp Extension Kit, Headlamp Battery Charger and USB Charge Adapter
Water resistant, meets the IPX5 requirements
COMPARE BATTERIES & BURN TIMES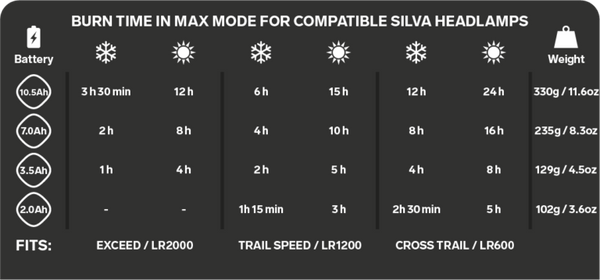 True lumen
Our lumen values are measured 30 seconds after switching the lamp on. We measure lumen according to the ANSI FL1 STANDARD.