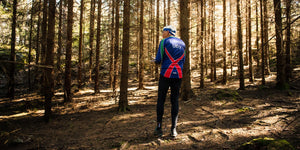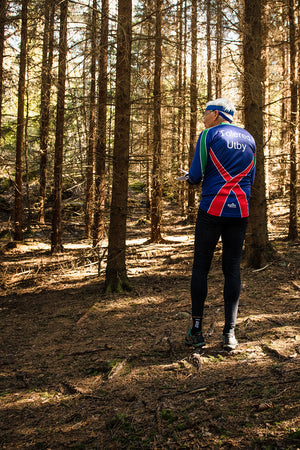 77-year-old Thomas Åberg started with orienteering as a 40-year-old to engage in his son's new hobby. It was love at first sight, and nowadays, he shares his passion for the sport with his eight grandchildren. He still competes as a veteran and loves watching Tove Alexandersson's races to learn new skills.
there is always more to discover
It's just another Thursday morning in Kungälv, outside Gothenburg. Most people are at work or in school. The April sun seeps through the branches in the small forest, and everything is quiet.
Started orienteering when he was 40

Light steps down the hill. With a map, compass, and a focused look, Thomas Åberg, 77 years old, runs towards the orange-white checkpoint. He is one of 100 participants aged 65 to 90 who navigate the technical terrain during today's competition.
Nowadays, Thomas is a regular in the senior orienteering competitions on Thursdays, but that has not always been the case. He started orienteering when he was 40 to engage in his eldest son's new hobby. They both fell in love with the sport:
– I have always enjoyed nature and like to solve problems. Orienteering is a bit like sudoku or crosswords, but in the forest, Thomas says.  
THOMAS ÅBERG
BORN: 1945
LIVES: Outside Gothenburg, Sweden
FAMILY: Wife Birgitta, 3 sons and 8 grandchildren
CAREER: Teacher
ACTIVITY: Orienteering
Football, skating and music

Thomas was born in 1945 and had a lovely childhood where he played football, swam, fished, and ice skated. Thanks to a great history teacher, Thomas enjoyed school and became a middle school teacher. Music was his favourite subject:  
– We had a school orchestra and set up a musical. It took a lot of time, but it motivated the kids to perform better in other subjects. They used to ask me: "do we have to go home?"  
Thomas met his wife Birgitta in high school and eventually had three sons: 
– We say we've had four boys because we were fortunate enough to win our two-year-old back from leukaemia. Birgitta and I took turns staying with him in the hospital and communicated by notes on the sink. It was a tough time that taught me to value the small things.  
All of Thomas' eight grandchildren are orienteers. He used to sprint with them from the last checkpoint, but nowadays, they are too fast. 
Combines orienteering with "Jympa"
Thomas and his wife have been strong runners who have run Göteborgsvarvet many times. He also used to play tennis but had to stop because of an old football knee injury. He didn't have to worry about the running part of the orienteering. The challenge was to run slow enough so he also could navigate.
Thomas is still a member of the Tolered Utby orienteering club, the very same club that his son joined 37 years ago. During orienteering season, he participates in 7-8 competitions a month: the senior competition on Thursdays and long-distance competitions on weekends. In addition to orienteering, Thomas works out at Friskis & Svettis to maintain his strength and mobility.
In the winter, Thomas likes to skate and ski when possible in Gothenburg and makes an annual ski trip with his family and grandchildren.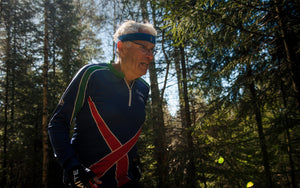 "Never quit things
that are good for you"
What advice would you give...
... a 20-year-old?
– Invest in education. Life is long, and having a good job that you like is crucial. Doing your best will make you feel great because you are true to yourself.
... a 40-year-old?
– Dare to try something new.
... SOMEONE YOUR AGE?
– Keep doing what you love. Aim forward, not upwards.
Never quit things that are good for you

Thomas lives by the motto "never quit things that are good for you":
– You don't have to be as good, you don't have to do it as often, fast or long. Just don't stop moving.
He emphasizes that he is lucky to be healthy and injury-free. He can cope with minor aches and reminds himself that there are orienteers who are way older and use a walking stick in the forest.
For the moment, the goal is to learn how to use a thumb compass properly:
– With a thumb compass, you can take a new direction quicker and run faster.
In addition to that goal, Thomas wants to rank higher or at least keep his position in the Swedish ranking list.

What motivates you to keep going?
–  Orienteering is such a good activity. And it's social. Maybe not when navigating the forest, but before and after the competition. I like that orienteering welcomes all ages and that you race in mixed teams in the sprint relays. Personally, I like how great orienteering makes me feel. I never find the hills here on the West Coast too exhausting. 
Watch YouTube to pick up new skills
Thomas' recommendation to someone who wants to get started with orienteering is "Naturpasset" in Sweden. The whole family can walk the course together and let the kids discover the checkpoints first. He also recommends joining an orienteering club, who usually are very welcoming to beginners.
His advice to someone who already is an orienteer and wants to improve is intervals and to watch YouTube. He has learned a lot from analysing the elite orienteers' performance during 10MILA.
There is always more to discover
Even though Thomas has learned a lot in life, he now realises how little he knows. But he does know a few things about equity. It's better if everyone is doing OK than if a few people have it all and others nothing. That goes for society, work and raising children.
What should people do more often?
– Stop watching TV or staring at your phone for hours. Especially when you are around children: make contact with them, not your phone. We live in a beautiful country with the ocean, the forest, the fells and the lakes. Go outside and enjoy all of that.
What are you most proud of?
– My family. I'm immensely grateful when all 16 are gathered in the summer cabin at Tjörn. And I'm proud of my pupils that I bump into from time to time. It makes me happy that they are doing well.
The small forest in Kungälv is usually quiet, but this Thursday morning, it's full of life as the 100 seniors navigate the terrain. Thomas is happy that he won his class, but at the same time, he thinks there is room for improvement for the next competition.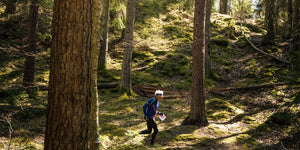 there is always more
to discover