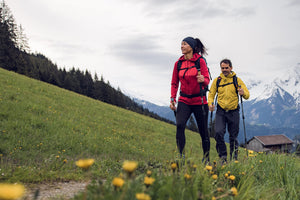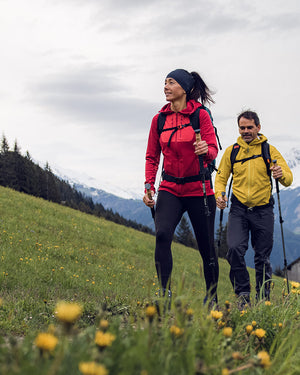 These poles are
made for walking
Ease or increase the effort
Walking with poles is all about energy, but in very different ways. Save your energy and support your body with Silva Trekking poles when you are adventuring the back country. Or make the most of your walk and upgrade it into a conditioning fitness routine with Silva Nordic walking poles.
Trekking or Walking
Trekking poles and Nordic walking poles are different in features just the way the activities are different. Silva Trekking poles can be put into three sections and attached to your backpack when not used. Nordic walking poles have a wrist glove for improved control when you swing it in a backward motion on your brisk walks.

Regardless which poles you choose you can be sure to have a companion worthy of many miles by your side. All poles from Silva have functional accessories and available spare parts making your poles are ready for any challenge or any weather you put before them.

Trekking poles
Bring your poles on your hikes. Improve your posture, keep your balance on rocky or steep terrain and take the stress off your joints!
Nordic walking poles
Make the most of your walking routine. Involve more muscle groups in your body on your daily walks and increase your metabolism!
Accessories
Get your poles ready for many more miles and more hours of walking. Gear up with all the necessary accessories and spare parts!
When only the best is good enough
Trekking Poles Carbon
Silva Trekking poles carbon are made for walking, just like you. Bring these lightweight trekking poles made of carbon when you are hiking or trekking in the mountains. Using poles will support your body and save your energy.
Flexible fit
Adjust the length up to 140 cm with the easy aluminum locking system. The poles can be conveniently pushed together into three pieces and carried in your backpack, or attached to your backpack, when not needed.
Comfortable cork handles
These poles have comfortable cork handles which are ideal in both warm and cold temperatures. The extended foam handles are convenient in steep terrain and when you prefer even shorter poles. The wrist straps are soft and easy to adjust and will make even a full day of hiking comfortable.
Optimize for any weather or terrain
Do you go on hikes in muddy terrain or in lots of snow? These poles include removable snow baskets, rubber paws and interchangeable tips. Bring your poles on all your adventures regardless the season without the risk to wear them out. The carbide tips are concave for even better grip on trails and in rough terrain. Snow baskets, carbide tips and rubber paws can also be bought as spare parts.
Walking poles aluminum cork
Make your power walking even more effective with these walking poles. These poles are made of high-quality aluminum that will last a long time and give you great support when you exercise. The cork handles are comfortable in both warm and cold temperatures and provide a smooth feeling even on longer walks. The wrist gloves are easy to adjust to fit your hand and ensure that the poles stay in place.
High-quality material
The 7075 Aluminum is a high-quality material preferred by Nordic walkers who are avid exercisers. With these poles your walks will be comfortable despite how hard you push your limits. The poles can be adjusted to any length between 105 cm and 140 cm.
Year-round use
With these walking poles you can challenge the weather regardless the season. Removable snow baskets are included as well as rubber paws that are shaped for smooth contact with asphalt and that follow your natural movement. The carbide tips are concave for good grip on easy trails and in addition they are interchangeable so that you can go for many miles. Snow baskets, carbide tip and rubber paws can also be bought as spare parts.
The Pole Guide
More to discover
Get inspired ahead of your next outdoor adventure and learn how to get the most out of your poles.