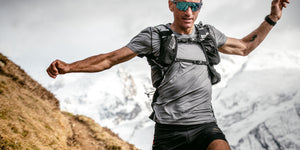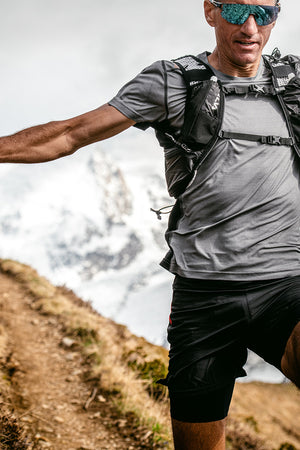 The perfect running companion
Expand your weekly running routine and your morning jogs to make running something you really long for. Whether you run trail races, keep up with running streaks or multiday adventures you will find the perfect running pack from Silva to fit your daily runs and adventures. The Strive series consists of running vests and packs in different models, and also different sizes. They all have smart design and clever features with easy access to energy gels and other necessities, regardless if you are racing for seconds with no time to stop, or taking your time to enjoy the scenery.
The perfect running vest is hardly noticeable. You run with full freedom of movement, and you are never restrained by your pack. For short runs you will fit what you need in our Strive belt. For several days of running, Silva Mountain Pack will be your best running companion. The Strive series also include Strive Ultra Light vest for fast races and Strive Light Black for stylish running.
Hydration on the go
The Strive series consists of running vests and packs with different solutions for hydration.
Which Strive running vest should I choose?
The Strive series consists of different vests and products for running. The running vests have clever pockets for your energy gels with easy access even when you run. Also, hydration is always within reach. Which of the vests is the best choice for you? Here are our recommendations to start with:
Will you run for less than 60 minutes?
You probably won't need a running vest. Go for a Strive Belt instead, it has a smart compartment for keys and your bus card.
Will you run for more than 60 minutes on mixed surface in the city or surrounding forest?
Choose Strive Light Black 5 liters with just enough space for energy, hydration and a thin running jacket.
Will you run a long slow distance in the city or on a trail in the forest or the mountains? Choose Strive Light Black 10 liters with good space for energy, hydration, a jacket, beanie and a pair of gloves.
Will you run fast and want to minimize your weight?
Choose Strive Ultra Light which weighs from 139 grams.
Will you run for a full day, or maybe for several days, in the forest or the mountains?
Choose Strive Mountain Pack which comes with 17+3 liters and 23+3 liters of packing space.
Pack for your next race

Which Silva running vest you prefer depends on the race you are about to run. Strive Ultra Light vest is made for really fast races and have a minimalistic design with smaller compartments at the front that fits energy gels, and a pocket on the back with just enough room for a thin jacket. If you are about to run a slightly longer race then Strive Light Black or Strive Mountain Pack might be your best options. Strive Mountain Pack has a tight fit thanks to Silva Embrace System. It ensures smooth running and full freedom of movement, despite heavier packing.
Packing suggestions for races:
• Soft flasks – which are included when you buy a Silva running vest
• Energy gels, or bars
• Outerlayer
• Lightweight headlamp
• Map and compass
• Smartphone, whistle, rescue blanket and first aid kit

Make sure to read the race checklist before leaving your home.
Pack for your multi day running adventure
Make your running an adventure and prepare for all the fun by planning ahead for the perfect route and conditions you need to be aware of. Good preparations enable you to have a great idea of what to pack. Strive Mountain Pack has a generous packing compartment and Silva Embrace System ensures a good fit despite the packing volume. The running pack will hug your body and has a tight fit so that you can run smoothly.
The trick when you plan to run far is to pack reasonably. You do not want to run with more weight than necessary. At the same time, that small bag of candy or a deodorant or a little book with crosswords, might be just what keeps you motivated to keep going when the running feels heavy.
If you run between mountain huts there might be fresh water for hand washing your underwear. Otherwise, wash what you need in a closeby lake or river. Choose your baselayer garments in materials such as merino wool or bamboo, it doesn't smell and also it is quick to dry.
Pack baselayer, headband or a thin beanie and also gloves. Even though the days might be warm thanks to the sun, it often gets chilly during the evenings when the sun sets. And hey, don't forget the headlamp. And make sure to fully charge it!
 Another piece of advice is to pack a pair of thin and lightweight slippers or sandals. Your feet will be glad to walk around in something else than your running shoes after a day with many miles regardless the surface. Also, make sure to bring sunscreen, mosquito spray and other details that will make your adventure more pleasurable.
Packing suggestions for longer runs:
•Quick drying shorts, tights and a thin t-shirt to wear when you run
• Underwear, including socks, for half of your total days of running – you can wash them every second day
• Visor or a cap for sun protection and a headband or beanie for colder evenings
• Outer layer for your upper body but also shell pants in case of bad weather
• Second layer for colder days
• Baselayer
• Sun screen and mosquito spray
• Thin and lightweight sandals or slippers
• Something small that will give your energy when your mood craves it
• Headlamp
• Map and compass
• Soft flasks for water
• Energy
• Whistle, first aid kit, rescue blanket and a powerbank for your phone
• Depening on your adventure: sleeping bag, tent and what you need for your daily meals
There is always more to discover
View all